Drama Review: A Gentleman's Dignity (2012)
Title:
신사의
품격
/ Shinsa-ui Poomgyuk
Also Known As
: Gentlemen's Class/ Grace of Gentleman/ Gentleman's Classy
Genre:
Romance, comedy
Episodes:
20
Broadcast Network
: SBS
Broadcast Period:
May 26 2012 to August 12 2012
Air Time:
Saturday and Sunday 21:50
Country:
South Korea
A drama about the careers and love lives of urban professionals. It will tell the story of four men in their forties as they go through love, breakup, success and failure.
Kim Do Jin, an architect with a scathing tongue has romantic relationship with strict high school teacher Seo Yi Soo, who moonlights as an umpire at amateur baseball games. Im Tae San is dating a cold-hearted woman but wonders if there is someone else out there for him. Choi Yoon tries to heal his heart after losing his wife four years ago. Lee Jung Rok marries an older woman for money but may lose his comfortable lifestyle in a divorce.
Yoon Jin Yi
as Im Meari
Lee Jong Hyun as Colin
My Thoughts:
This was an AWESOME drama! I have to say I didn't expect much from it when I started it but it hooks you in because of every episode's humor and wittiness. You would never think the life of 4 middle age men would be so entertaining. The main reasons that I started watching this drama because of
Kim Su-Ro
, he is one of the variety kings in Korea. I watched varieties like Family Outing and Running Man with him in it and he just makes you laugh! This drama has many cameos by Korean Idols and they placed in very well. Although I started watching it because he was in it, I ended loving all the characters because they could all stand alone and still be awesome! It also received high ratings on AGB Nielsen, placing second many times against Gag Concert. Not only by ratings did they do well but also it also received many awards.
Awards
2012 SBS Drama Awards
2012 Grime Awards
2012 1st K-Drama Star Awards
2012 5th Korea Drama Awards
The drama depicts the lives of 4 middle aged men; Kim DoJin, Im TaeSun, Choi Yoon and Lee JungRok. They all live many different lives and gone through different hardships. Later the female lead and supporting are revealed, that is Seo YiSoo and Hong SeRa, they are roommates. Later on in the drama Im TaeSun's sister (Im Meari) appears and so does Colin, a mysterious boy that could be related to Kim DoJin, Im TaeSun, Choi Yoon and Lee JungRok.
Every episode starts off with a humorous mini skit of what Kim DoJin, Im TaeSun, Choi Yoon and Lee JungRok did in the past. In the end the skits all help build the story line.
Episode 1 - Opening Scene
The relationship between the main characters is interesting and sweet at the same time.
Kim Do Jin (
Jang Dong Gun
) and
Seo Yi Soo (
Kim Ha Neul
) have met in the past by coincidence but do not remember until the relationship starts.
They are known to have the famous window kiss scene <-- Although cheesy or weird to some, it is a very memorable scene from episode 10.
Episode 10 - Window Kiss
Although YiSoo and DoJin are the main lead, i have to say all the characters are mains because of all the memorable moments they have~
Here are the

4 couples

formed in the drama: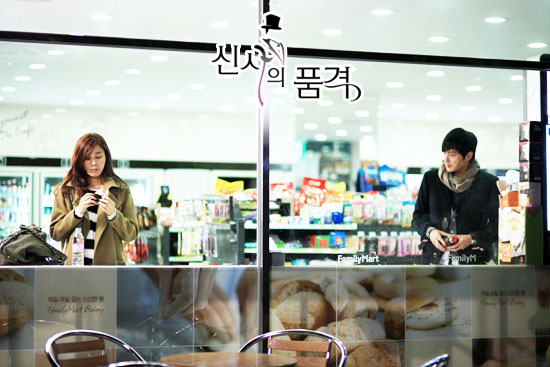 Main Lead - Seo YiSoo and Kim DoJin
Seo YiSoo is a highschool teacher and Kim DoJin is an architect. They met through Im TaeSun when playing baseball. Im TaeSun is Seo YiSoo's unrequited love.
Choi Yoon and Im Meari
Choi Yoon is a lawyer and Im Meari is Im TaeSun's younger sister. Choi Yoon is widowed and because of that he has been afraid to accept Meari's affection.
Im TaeSun and Yoon SeAh
Im TaeSun is contractor who works with Kim DoJin and Yoon SeAh is a professional golf player. They meet with the help of Seo YiSoo.
Lee Jong Ruk and Park Min Sook
Lee Jong Ruk a big time player that decides to marry Park Min Sook because of her wealth. Jong Ruk is uneasy when Min Sook mentions about divorce.
~ Here is a trailer of the drama ~